"The most overrated ingredient is truffle oil. It's like gasoline. I never use it in my restaurants. It's heavy, and it repeats on me." Jean-Georges Vongerichten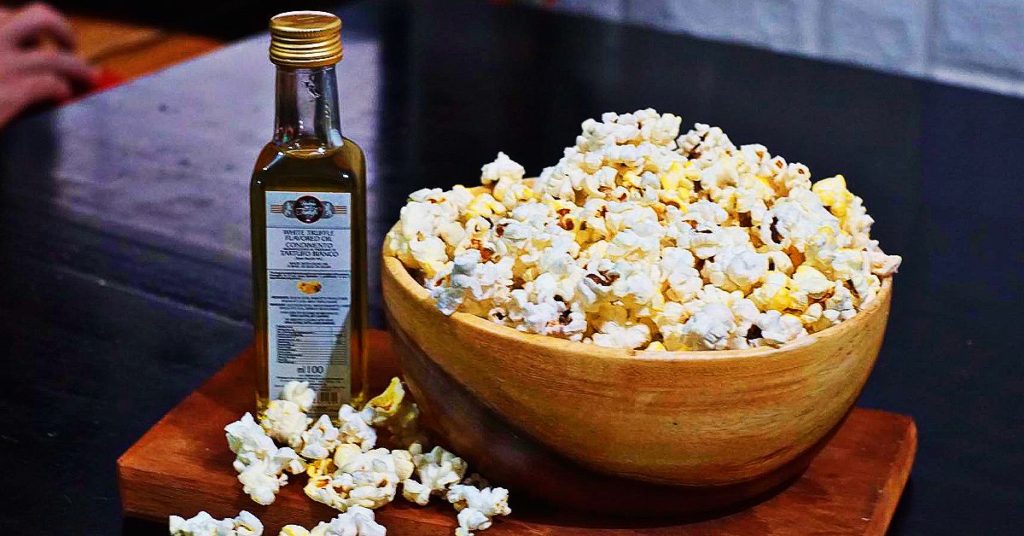 For a long time.. I've seen people in many restaurant I work drizzle of truffle oil.. or shaved truffles.. being just this insanely good thing to do for food. I know truffles are mushrooms with intense flavor but I've read that the flavor is hard to describe because good truffles are unlike other mushrooms.
To me the flavor and fragrance is not unlike that of garlic, but more "earthy" and mushroomy if that makes any sense. I remember blind tasting truffle oil @the Village Pub back in 2006 (without knowing what kind of oil I was tasting) at a time in my life when I couldn't smell anything at all (no comment), and I could have sworn it was garlic oil.
I like to drizzle it on pasta dishes sometimes, as well as on my wild mushroom risotto. But remember oils typically lose all flavor when cooked – you never want to cook or heat a quality oil such as a quality olive oil or a truffle oil!
Some people really dislike truffle oil claiming that it smells like compost or tastes like dirt. The stuff goes bad just like olive oil and has the same skunked taste to it as expired olive oil. The stuff has a way of sitting in the supermarket for a long time since it is an ingredient that few people buy.
White Truffle Oil vs Black Truffle Sauce
I like the Urbani brand on white and black truffle oils, I buy then @Whole food in Los Gatos but I also used Amazon.
Urbani White Truffle oil is a condiment based on olive oil, dehydrated Bianchetto truffle, and white truffle aroma. It has a more delicate flavor with a slight garlicky taste and a hint of pepper. It is used almost exclusively as a finishing oil, meaning it is added to a dish near or at the end of preparation, as its potency is heat-sensitive and not suitable as a cooking oil. Bear in mind that this oil is to be used as a finishing element, do not use it for sautés.
You can also simply pour some white truffle oil over movie snacks such as popcorn, French fries, orpizza, and you can even mix it with ketchup, mayonnaise, or hummus to make your holiday movie marathons even more extra. It can also be used to dress salads and soups to give them extra flavor.
But, try to make that dish : 8 Jumbo shrimp, pealed, deveined, and dried.
Coat in Urbani White Truffle , add salt, pepper, and crushed red pepper to taste.
Cover and refrigerate for 1/2 hour to an hour.
Heat pan to medium high, with a bit more if the oil.
Lay the shrimp in, let sear for two minutes a side.
Excellent on hearts of romaine leaves, with sliced tomatoes.
Meanwhile, black truffle has a more intense and robust flavor, which some may describe as more earthy and nutty with some chocolate notes. Urbani Black Truffle is made with fresh Champignon mushrooms, extra virgin olive oil, black olives, and the natural flavor of black summer truffle. Truffle sauces are heated up and mixed with other ingredients.
I love truffle oil especially in lobster Mac and cheese. Trust me mac and cheese will never be the same…
Try experimenting with black truffle, to use original black truffle sauce, simply heat it up and mix with your choice of pasta, meat, fish, potatoes, roasted vegetables, or salad, and you get an effortlessly luxurious meal. It is perfect for garnishing appetizers and canapés or for enhancing dishes with a delicate and fine flavor like pasta, meat or fish. If you want, you can even add some drops of fresh cooking cream.
But also to be honest, after having truffle oil a few times, I was lucky enough to have real truffles shaved over a plate of pasta in Florence. Though I still found the flavor a little overwhelming, it was light years better than the oil–in fact, a different flavor altogether. Since then (if the chef goes heavy on the pour) I've avoided dishes topped with truffle oil, since to me if you used a little bit too much, it simply drowns out the other flavors–and not in a good way. But I used the right amount @home for sure, but I did screw up a few…
Look at my avocado toast with white truffle oil on a sourdough slice….