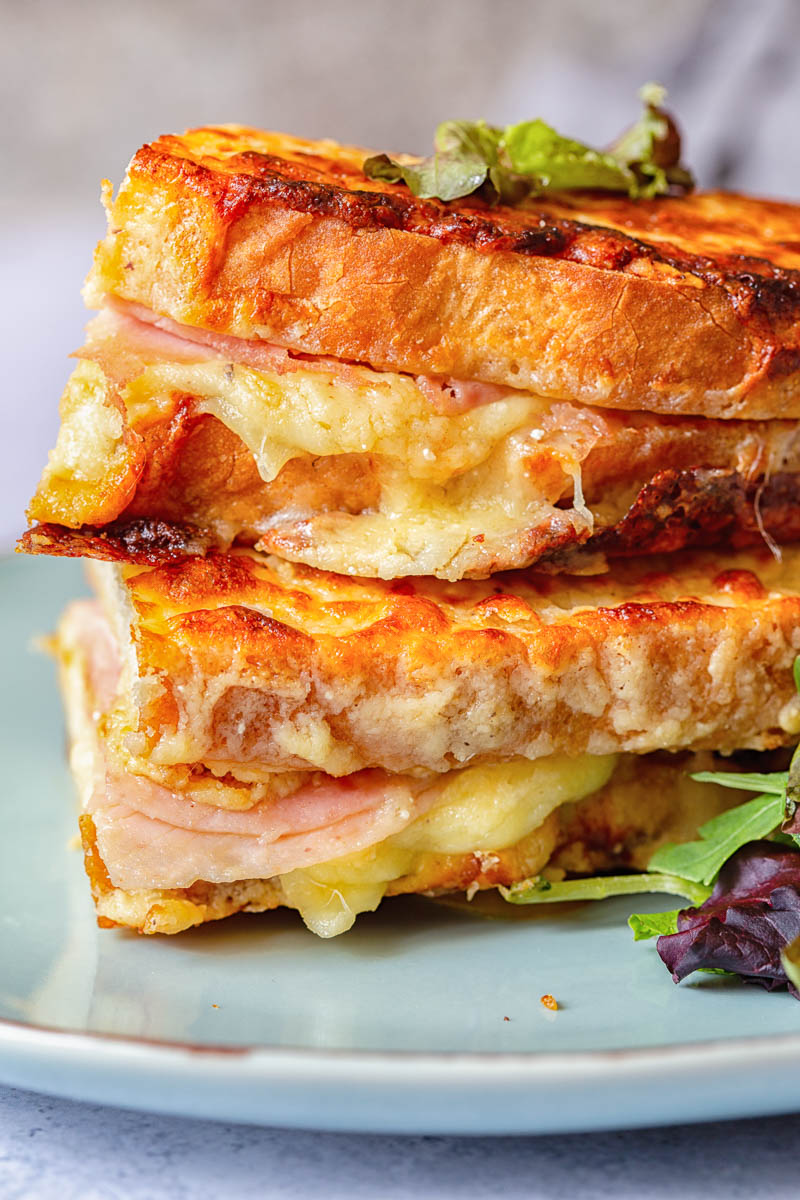 The title Croque Monsieur comes from "croquer", to bite and "monsieur" meaning mister. It's literally a gentleman's sandwich. It first appears in literature in a work by Proust, In Search of Lost Time in 1918, but it had featured on menus in Paris as early as 1910.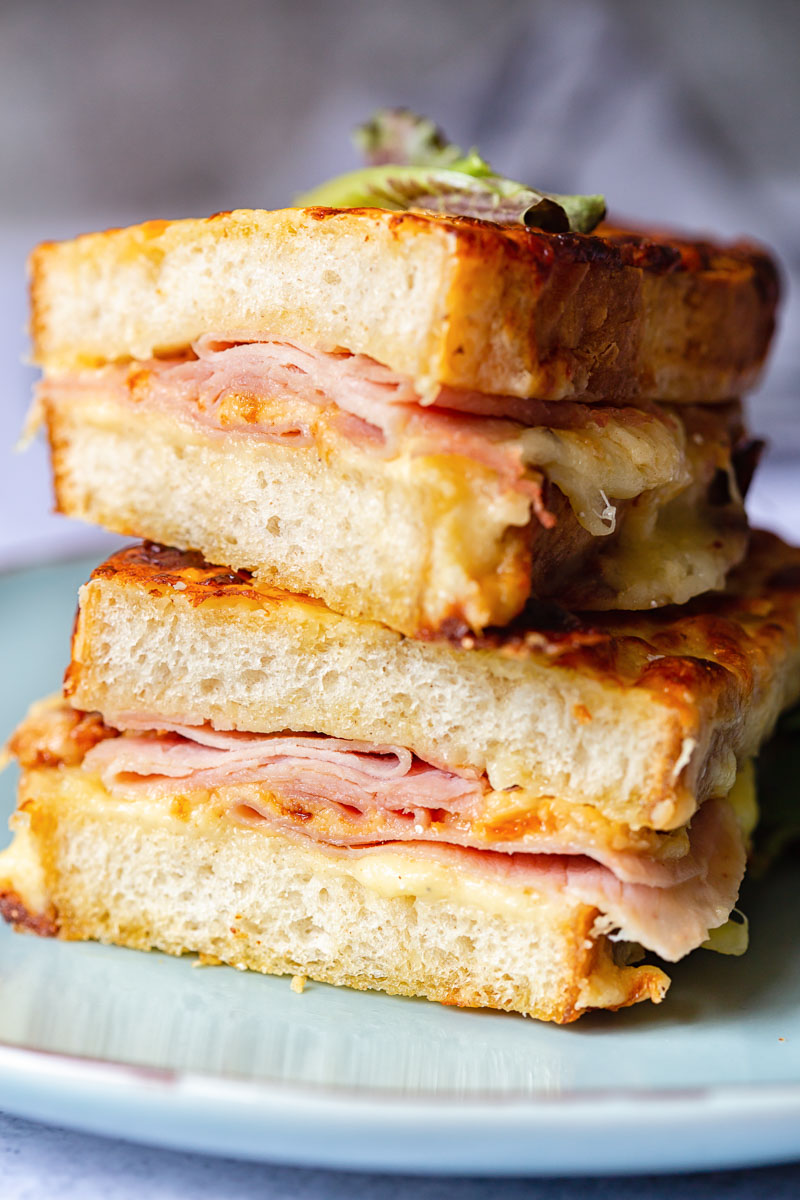 WHAT IS CLASSIC CROQUE MONSIEUR?
The Croque Monsieur is a richer, more distinguished cousin of the beloved, thrifty and comfortable grilled cheese sandwich.
And if you pop a fried egg on top it's called Croque Madame! Don't you think it's a delicious and classy brunch idea?
WHAT CHEESE CAN I USE?
You can use any cheese you love, except Kraft singles. You have to draw the line somewhere! Gruyere is king, for sure. But I used Gruyere and Parmigiano Reggiano…
INGREDIENTS :
8 slices of sourdough bread from ACME
2.5 cups grated Gruyere
1/2 cup grated Parmigiano Reggiano
4 slices of cooked ham
2 tablespoons unsalted butter
3 tablespoons flour
2 cups hot milk
Pinch of freshly grated nutmeg
Dijon mustard
Salt and pepper to taste
INSTRUCTIONS :
Preheat the oven to 400 degrees.
In a small saucepan, melt the butter over low heat and add the flour, stirring constantly for 2 minutes.
Add the hot milk, slowly, and whisk until the sauce has thickened.
Turn the heat off and add the salt, pepper, nutmeg and cheese (1/2 cup of the Gruyere and Parmigiano Reggiano).
Lightly brush one side of each bread with Dijon mustard.
Add Gruyere cheese to each side, one slice of ham and then close the sandwiches together.
Spoon the bechamel sauce on top of the sandwiches and then sprinkle the rest of the Gruyere cheese.
Bake the sandwiches for 5 minutes.
Turn on the broiler and broil the sandwiches until the top is bubbly and slightly browned.
Serve warm.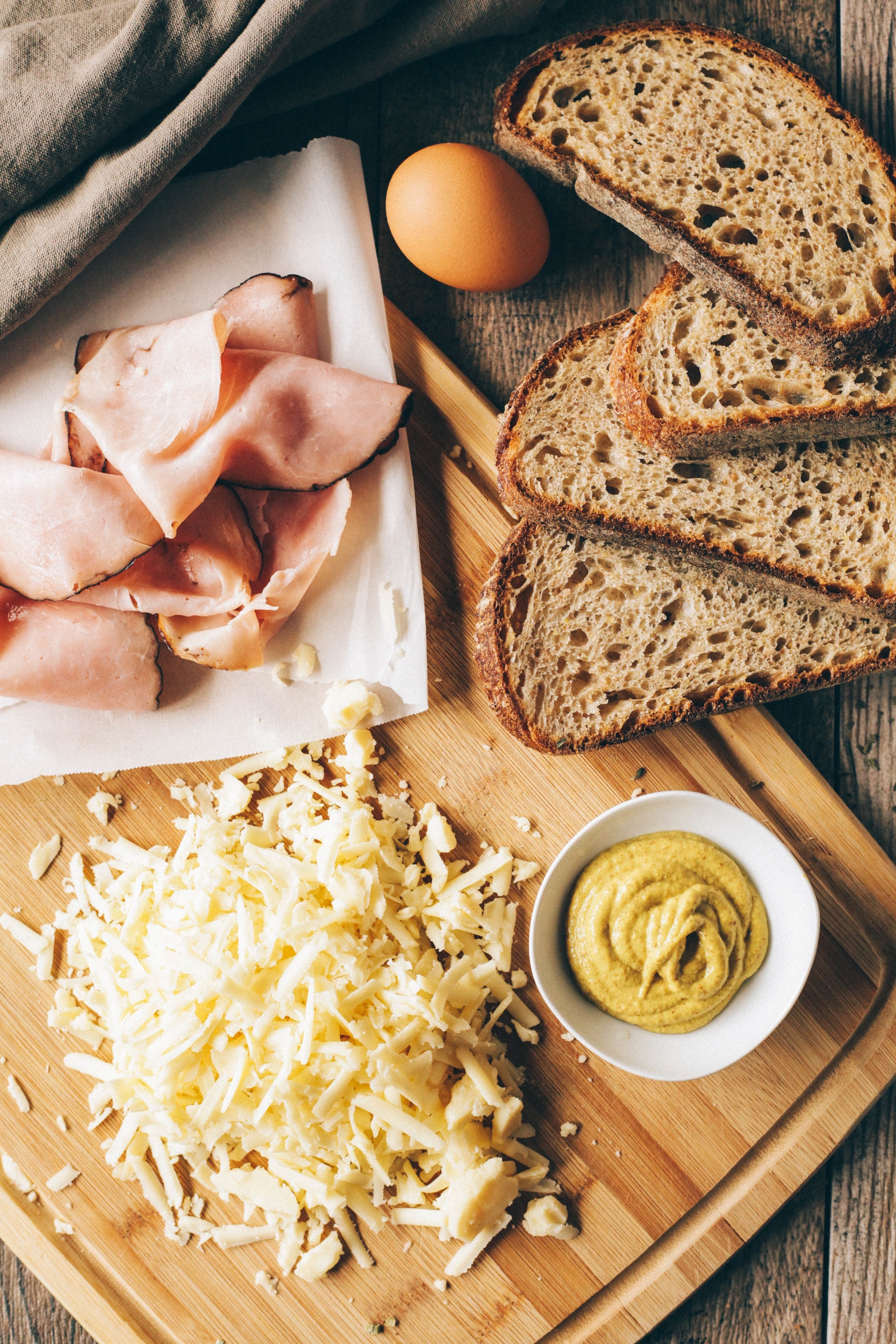 Remember to spread THIN, EVEN layers of the béchamel sauce onto the bread – alllll the way to the edges and beyond. very important step. don't let too much goop pile up in the center.